Creator is a theme of LEGO that focuses on the creative construction of System parts as opposed to playability functions of minifigures. As such, Creator sets are usually based on buildings or cars. There are also small sets contained in canisters, similar to the BIONICLE sets. The Creator sets did not include Minifigures until 2011, although many of the older sets are minifigure-scaled.
(lego.wikia.com)
Edit
Although the name Creator was introduced with the video game of the same name and board game, the first sets of the theme were introduced in 2001. They were continued from the previous Basic and FreeStyle themes, both including buckets of bricks and a few simple models. Creator, Basic, and Freestyle all contained 4+ Figure minifigures named Tina and Max.
These minifigures were discontinued when the Designer theme was introduced. This theme focused on the more specialised models, while Creator became used for sets containing an array of bricks and pieces designed to develop creativity.
When the Designer theme was discontinued in 2006, Creator took over its style of sets, including the X-Pod sub-theme. This produced more complex models and themes, including animals and vehicles. Meanwhile, Creator's previous sets, such as buckets, where moved to the Creative Building theme, which later became Bricks and More.
The complexity of the sets depends on the scale. Smaller models often make use of basic bricks, where as larger models make use of specialized elements and advanced building techniques. A majority of the sets released since 2006 are "three in one" models, which means that the set includes instructions to build three models using the parts included.
The Creator theme also includes the Modular Buildings line (with the exception of 10190 Market Street), which are a series of large, detailed buildings, and mostly have no more than one building. Unlike most Creator sets, Modular Buildings sets include minifigures and are to minifigure scale.
Sets (Dino Themed Sets Only)
Edit
4418 Dino Pod
4958 Monster Dino
4892 Prehistoric Power
4998 Stegosaurus
5868 Ferocious Creatures
6914 T-Rex
7604 Triceratops
7605 Stegosaurus
7798 Stegosaurus
20003 Dino
35750 Dinosaur Backpack
35757 Dinosaur Backpack
35764 Dinosaur Backpack
35769 Lunch Box Dinosaur
Videogames
Edit
Creator released many videogames: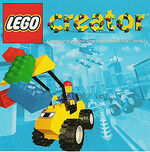 LEGO Creator
LEGO Creator: Knight's Kingdom
LEGO Creator: Harry Potter
LEGO Creator: Harry Potter and the Chamber of Secrets