Raptor Chase is a set released in late 2011 or 2012 for o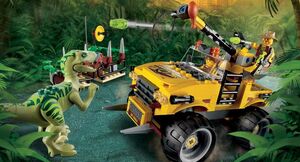 ther countries. The set has 259 pieces and costs $29.99 making it the 3rd most expensive set in the Dino Series. It comes with two Hero Minifigures and a Raptor. It also comes with a Jeep and a "Jungle Base".
The man with the hat looks like Chuck Norris and is exclusive to this set.
The other minifgure appears in nearly every other set.